Each year Financial Advisor Magazine ranks the top 50 fastest-growing RIAs (registered investment advisors) in the country with more than $250 million in assets under management (AUM). We are honored to announce that Cabana came in at No. 1 among the 2018 top 50. With more than 925.00% growth in assets last year and just under $500 million in current AUM, we owe much of our success to our clients, partners, friends and family.  While this is a huge milestone and accomplishment for our team, we know the best is yet to come! Thank you for being a part of our journey!
View Financial Advisor Magazine's 2018 Top Fastest-Growing Firms at the link below. 
Cabana Ranked #1 Fastest-Growing Firm by Financial Advisor Magazine_2018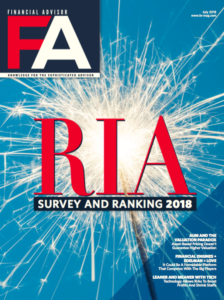 Financial Advisor magazine is a monthly financial services publication that delivers market information, strategies and trends to help advisors better serve their clients. It is currently ranked the most widely-read trade magazine for financial advisors.
The Financial Advisor Magazine 2018 Top 50 Fastest-Growing Firms ranking is not indicative of Cabana's future performance and may not be representative of actual client experiences. Cabana did not pay a fee to participate in the ranking and survey and is not affiliated with Financial Advisor Magazine. RIAs were ranked based on percentage growth in year-end 2017 AUM over year-end 2016 AUM with minimum AUM of $250 million, assets per client, and growth in percentage assets per client.  Click here for more information regarding the ranking.
Cabana's registration as an investment advisor is not an endorsement by the Securities and Exchange Commission or state securities regulators nor does it indicate that Cabana has attained a specific level of skill or ability.