World equity markets have quickly shrugged off the January swoon, as well as the perceived GameStop/Robinhood threat to the workings of financial markets. As we have pointed out many times, the things that really matter transcend opinion – and the vast majority of everything else is noise. So, what is it that really matters? Interest rates, earnings and price really matter. Of course, there are some twists and turns here, but those three simple data points provide a very strong foundation for everything that goes on in the investing world.
With this in mind, 2020 fourth quarter corporate earnings have come in strong and now appear to have bottomed in the third quarter. Equity prices reflect the positive earnings and optimism for future growth in 2021 as pent-up demand is unleashed and COVID-19 is closer to being resolved. Most broad indices are now overbought because of the surge that began in early November. Longer duration interest rates have risen just as dramatically as the stock market. In fact, yields began rising even before November in anticipation of growth returning to the economy. The bond market has an uncanny ability to see what matters before everyone else. That is why bond investors are considered smart money. We have pointed out that the one downside to this big growth story is the negative impact that rising rates have had on bonds, fixed income assets, dividend payers and other safe assets. The prices of these types of investments are inversely correlated with interest rates. When interest rates rise (especially rapidly), they tend to have trouble, and either lose value or underperform. This is the reason bond portfolios, fixed income and other conservatively weighted portfolios have struggled over the past four months. We have included a couple of charts below, which provide a good visual depiction of this relationship between interest rates and fixed income.
The good news is that those conservative portfolios that have been diversified enough to still produce gains, have a lot of dry powder in the form of oversold assets. When interest rates and the stock market inevitably pull back, they should do well, and some catch up will likely occur. When this happens is anyone's guess. Many conservative investors have been spoiled over the past few years as interest rates fell at the same time stocks were rising. This provided a chance to have your cake and eat it too, as well as some outsized returns. What we are seeing now is more consistent with the recovery in 2009 following the financial crisis.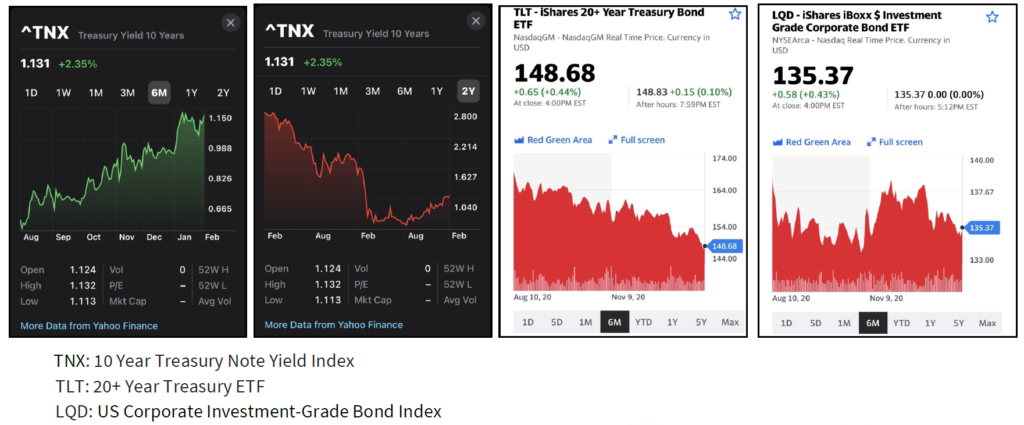 Download a PDF of this commentary at the following link: