Whether it's exchanging ugly tree ornaments or making latkes, we all have holiday traditions that we look forward to year after year. Traditions come big and small and each family has a way of putting a unique twist on holiday favorites to make them their very own.
What brings you feelings of joy, comfort and nostalgia during the holidays? I asked around in our office and this is what I found out…
Kelly:
"Every Christmas I buy PJ's for the family. On Christmas Eve, we open our one allotted present – the PJ's – we pick a movie, bake cookies for Santa (and of course we have to sample them) then sit down for a cozy night in front of the fire as a family. It started off as a way to keep the kids excitement at bay, but now it is something we all look forward to every year."
Chris (Carns):
"Every year my family stays at the Gaylord Texan Resort in Grapevine, Texas for a weekend in the weeks leading up to Christmas. We take part in a Christmas story read by Mrs. Claus (along with cookies and milk), gingerbread house building, and take a ride on the Polar Express!"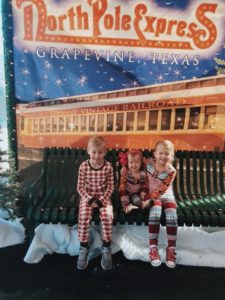 Michelle:
"Baking is my favorite holiday tradition! Every year I make my grandmother's original German recipes. Our favorites are stolen bread, butterhorns and lebruchen cookies.
Chris (Magann):
"We go to Motley's Christmas Tree Farm to cut down a "kid's tree", which we have done for the last 12 years!"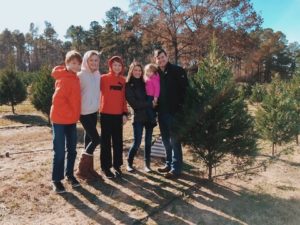 Heather:
"Our favorite tradition is Elf on the Shelf! Our elf is Chloe and her sidekick is Dog. Chloe likes to pull pranks and cause trouble. The kids love waking up each morning to see what Chloe and Dog have gotten into during the night.  One night they made snow angels with flour! They come to visit us onThanksgiving night and they head back to the North Pole on Christmas night.  Mom looks forward to the day after Christmas, when Chloe and Dog go home!"
Chadd: 
"One of my favorite traditions is to gather all my kids at the top of the stairs on Christmas morning and tell them not to be upset if Santa didn't come this year. I explain that we have been blessed throughout the year and sometimes he just can't get to everyone. I then lead them slowly downstairs reiterating not to be disappointed, until we can all see (much to our relief) that he did make it after all. My now sixteen-year-old son Jack says this yearly experience was one of the most stressful of his life. Ahh, I love Christmas!"
Louis:
"Each year we gather around and watch Christmas Story and South Park season 1 episode 10 – strange tradition, but it is ours."
Danny:
"Our Christmas traditions include watching National Lampoons: Christmas Vacation on Christmas Eve followed by midnight mass. Hanging out with family, making gingerbread houses with our kids, and baking cookies for Santa. We also usually catch a parade of lights and the north pole express train in Grapevine TX (the Christmas capital of Texas). And more recently, the Elf on the Shelf…"
Georgia:
"Since we were babies, the rule in our house was that all the kids had to sleep in the same room on Christmas Eve (or the presents would disappear). I am now married, 27 years old, and we still make pallets on the floor and pile in one room for the night! It's my favorite Christmas tradition!"
Brandon: 
"We actually have Santa's elf's come to our house every Christmas Eve and drop off new pajamas for everyone before Santa comes. Definitely unique!"
David: 
"Our family tradition is pretty unique. If the first thing a child says when getting up on Christmas Eve morning is "Christmas Eve gift", then they get one gift of the parents' choice from under the tree. All of the other gifts remain under the tree until Christmas morning."
Happy holidays to all!
-Mariam Barlett, Intern