As of Friday, major stock indices are churning right at their respective 50 day moving averages. This follows a plethora of economic reports last week. We got inflation data, unemployment and retail sales during the last three days of the week. All of it can be summed up as "in line" or slightly above expectations. The consensus is that the Federal Reserve will hold rates steady this week and keep the talk of another rate hike on the table for November. None of this seems to have moved the market in either direction.
The past month has seen volatility dry up and the VIX (volatility index) fall to the lowest levels since the pandemic began in March 2020. With so much yet to be determined, I can't decide if this is just the calm before the storm or perhaps a new and healthy normal. You can find plenty of "experts" who will tell you either, so I will let you decide for yourself.
Interest rates continue to bang up against 4.3% for the 10-Year Treasury. That seems like an important inflection point to me. I expect stocks to suffer if we break above that. This is just another part of the market complex that seems to be in a holding pattern. What will happen to cause a break up or down in stocks and bonds is anybody's guess, but it just feels awfully quiet right now.
The equal weight S&P 500 (RSP) continues to underperform its market weight counterpart (SPY). That is a negative in my view. I have included a chart of both below.
At Cabana, we remain in our Cautiously Bullish Scene with our Safety Valve engaged and allocated to short duration treasuries. 
SPY over the past six months (Stockcharts.com):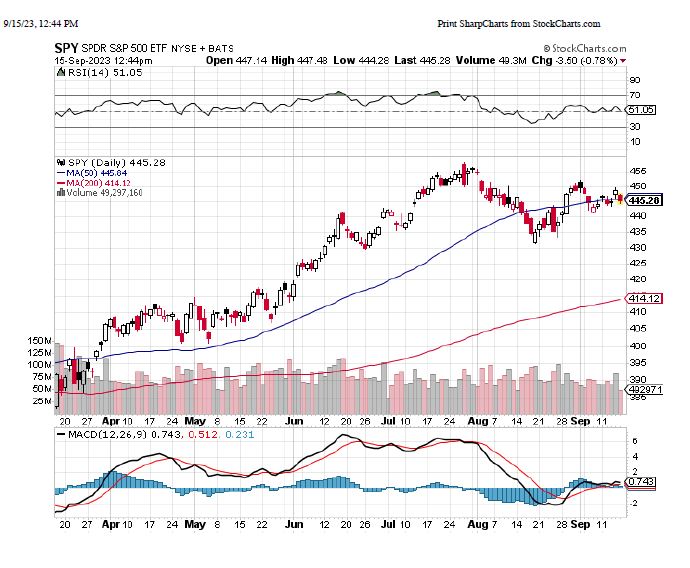 RSP over the past six months (Stockcharts.com):