For those of you who have seen Groundhog Day (one of my all-time favorite movies), you know what I mean when I say it feels like we are all living the same thing over and over again. Four months ago, I wrote of seeing us all put COVID and the unbelievably difficult year of 2020 behind us. I discussed the resumption of a cyclical bull market, which began last November on the hopes for a vaccine, a return to work and travel, a return to sports and concerts, seeing friends and taking our family to dinner. A return to life as we all knew it. 
And then I woke up.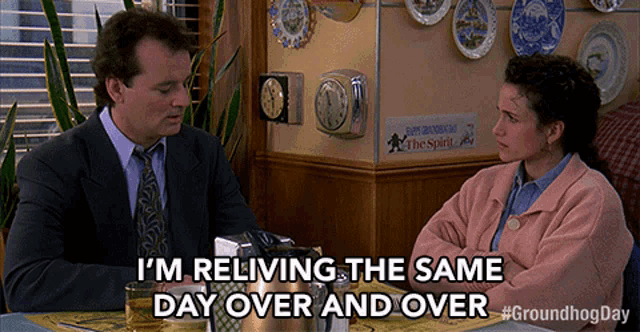 It's not a new day after all, but rather just more of the same. Hospitals full of sick patients. People dying. Angry and blustering politicians on both sides pandering to those who might elect them again and keep them on the gravy train that is our Congress. One segment of America pitted in a battle to the death (literally) with another. Neighbor vs. neighbor. Vaxxers vs. anti-vaxxers. Masks and more masks. 
My daughter is having my first grandchild this week and neither my wife nor I will be there… hospital protocol. Only one visitor is allowed in the room, and that will be her husband (as it should be). My son is going back to college to begin his sophomore year…but it is not college, at least not like the college I knew. No classrooms full of kids. No tailgating. No being really free – a little bit free, but with masks and vaccination records on hand. I feel bad for him and all our kids who just got stuck in this mess. I feel bad for all of us.  
 
The stock market is stuck too. After all, it is only a reflection of ourselves. It now knows what we all know. The bond market saw it first, but it is now obvious to all. We are right back in the same place we were a year ago. We need vaccines, more and better vaccines, which, of course, come with their own issues as I mentioned above. Without a medical solution we are left with herd immunity the Darwinian way,. tThe way of the Spanish flu pandemic of 1918-1920. The virus spreads and people die or survive until the weak are gone and the virus can find no further willing host. An estimated 50 million people across the world died then and 675,000 of those were Americans. Eventually us humans prevailed – perhaps even a stronger human race was realized, but at such a cost.  

Hopefully medicine and sound policy, coupled with cooperation among nations will reduce that cost and the dead won't number 20 or 50 million. Right now, 4.3 million people have died of COVID, 617,000 Americans. Almost exactly as many of us have now died as did on our shores in that historic time, and we perhaps are not close to the end. Those numbers put things in perspective. 

So… back to the stock market. We will move higher when we all move higher. The longer we can tread water near the major indices' highs, the better our chances of avoiding a long overdue correction. Much like the rest of us, the market is buying time. Unfortunately for us humans, we don't get that time back.  
P.S. For those who have not seen Groundhog Day, go watch it. We all deserve a little break and that might do the trick.