The past week has seen continued rotation into cyclical assets like industrials, materials, consumer discretionary, financials, and even beaten down energy. We have been watching for this since August when we first pointed out the divergence between big tech and everything else. We pointed out then that we would eventually need to see other sectors get a little bit of the love that has been shown to big tech (FAANG) since the COVID-19 pandemic began in late February.
During our monthly webinar with our partner advisors last week, we spent quite a bit of time talking about what we have seen since the beginning of the month and, particularly since the election. We covered quite a bit of ground and discussed how helpful it is to watch the equal weight S&P 500 index (RSP) versus the more commonly known market cap weighted S&P 500 index (SPY). The market cap weighted version skews the underlying health of the market toward a few huge tech companies. As such, the average market watcher would think that all is rosy on the earnings front as the media focuses on only the market cap weighted index. The same is true of the DOW and Nasdaq. In reality, all the other components (companies) that make up these indices have been struggling and are underwater for the year. For more information on this, please refer to our commentary from two weeks ago (here).
As far as earnings go, we are still very much in a bear market when we look at the majority of companies in the aggregate. With that said, things are improving. How do I know this? It's simple. I just watch for the equal weight S&P 500 to begin to outperform the market cap weighted S&P 500. It typically takes the lead when we are entering or are in a cyclical bull market for stocks. Its leadership tells us that there is market breadth across all industries, and it is not just one horse running the race. I have included a chart that shows RSP overtaking SPY for the first time since the bear market began in February. This is a chart we presented during the webinar last week and is worth taking a look at again as the trend is continuing today.
Finally, you will see a second chart below curtesy of StockCharts.com, which compares the performance of the various sectors within the S&P 500 over the past few weeks. This shows us that we are finally seeing some participation by the other horses in the race. It doesn't mean that Apple, Amazon, Facebook and Google are finished, but it does mean that investors believe we have an end in sight to the very strange world we have been living in the past eight months. The potential medical solution to COVID cannot be overstated.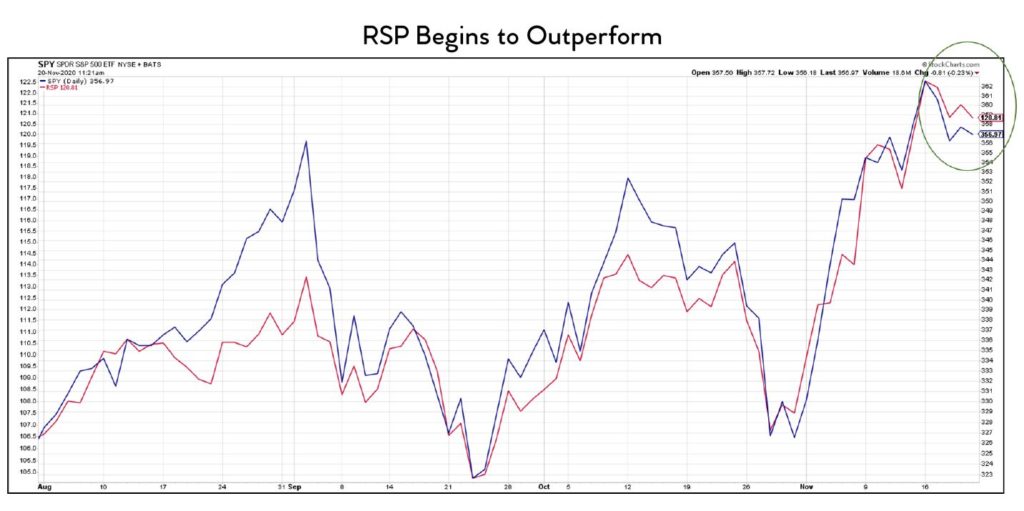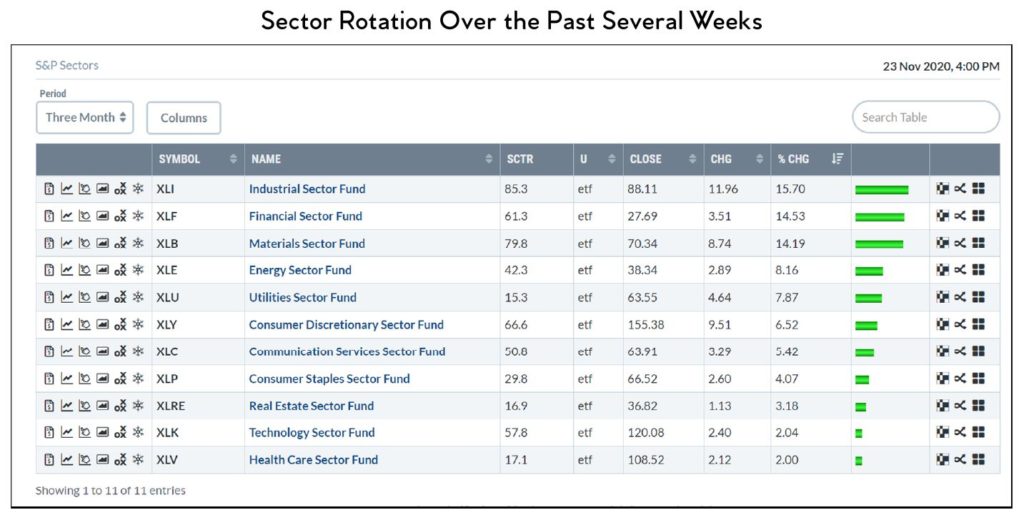 Download a PDF of this commentary at the following link: