Equity markets have continued to make technical progress over the past week. We find ourselves at a juncture where numerous indicators have converged.
I have pulled a chart of the S&P 500 (SPY) from StockCharts.com and included it below for reference. Technical analysis is always a bit subjective, so take what I see with that in mind. Most importantly, I see this broad index reclaiming its 50- and 200-day simple moving average (SMA) just as the 50-day is crossing back above its 200-day (see blue box). This is referred to as a "golden cross" and is evidence of a new bull cycle. We had the opposite situation occur last March when the 50-day crossed below the 200-day (referred to as a "death cross"). Bull markets live in an environment where the 50-day SMA is above the 200-day SMA. This is the result of price trending up during bull markets and making a series of higher highs. In bear markets, price trends down making a series of lower lows. The 2022 bear market is a great example of the latter and can easily be seen in this chart. I also think it is noteworthy that we have now crossed above the down sloping trendline that began in at the beginning of 2022 – albeit barely (see green trendline). Coincident with this, we have tested and moved above the upward sloping trendline that was initiated by the October market lows (see red trendline). All these technical conditions provide support as the S&P 500 attempts to break major overhead resistance at 4100 (see black resistance line). In my opinion, it will be necessary to close above that level for a confirmed trend change to have occurred. It will mark the first higher low and higher high since the bear market began over a year ago.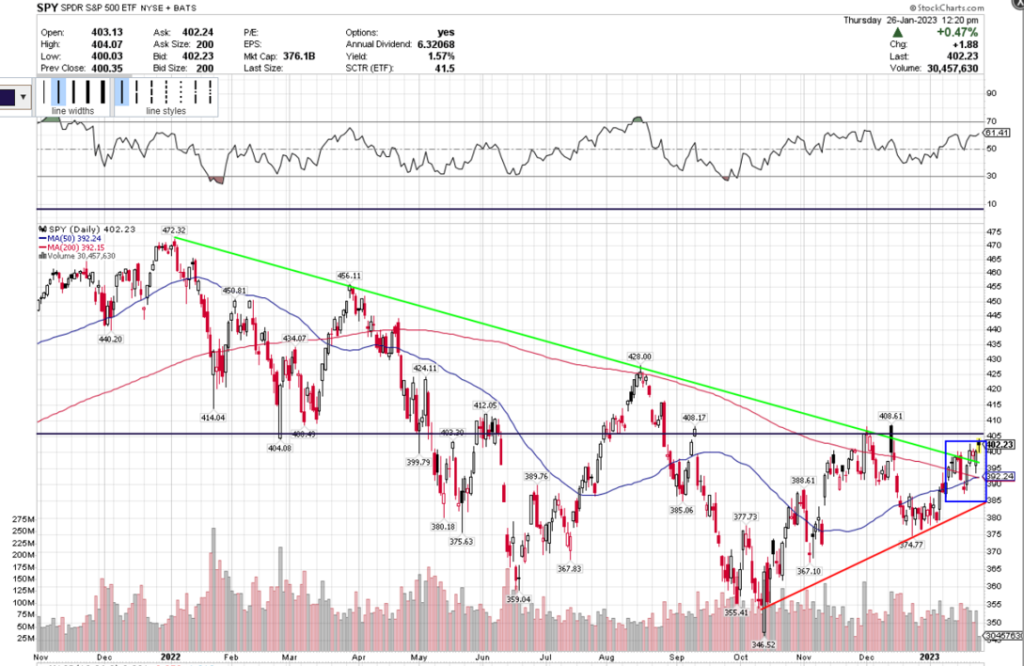 Not surprisingly (to me), all this is happening as we await the Federal Reserve's next meeting. The hope is that the Fed will acknowledge the recent downshift in inflation and suggest a pause in its interest rate hikes is on the horizon. The bond market has priced in a nearly 100% chance of at least a 25-basis point hike next week. So, the pause isn't here yet, but the market is always looking forward. We get another inflation report tomorrow, which can change things, but it feels to me like the stock market wants to move higher and a slightly dovish Federal Reserve report next week could be the impetus. Of course, we are by no means at that point, and the past year has been nothing but whipsaws and pain for many, so investors should be prepared for a selloff as well. Either way, the rubber is on the road. 
At Cabana, we remain in our Moderately Bearish Scene having added equity exposure earlier in the month, but we are prepared to return to our Safety Valve position should markets break down.