Last week we took a look at some potentially important positive technical changes in the broad U.S. stock market. We used the S&P 500 as a proxy and will do the same today. We also noted that the January rally in stocks was in anticipation of the Fed meeting, which concluded yesterday. I felt like the market was itching to move up absent a really big surprise out of the Fed or Chairman Powell in his post-meeting press conference. Well, we got about what we were expecting in a 25-basis point hike in the funds rate. It now stands at 4.50%-4.75%. Additionally, the statement indicated additional hikes would be likely. All this was the consensus of commentators going into the meeting. What may not have been expected was Chairman Powell's perceived acceptance of improving "market" conditions. Investors seem to have struck on the possibility that the Fed will not intentionally derail the current rally. Yesterday afternoon all major indices took another leg up and the S&P 500 is threatening the trend change that I focused on last week. I have had several partners call me about this and I thought I would provide another visual of this technical improvement. Today, I have included a point and figure chart below for illustration. Point and figure charts are some of the oldest and most reliable (in my opinion) technical indicators out there. I like them because they are simple and easy to read. As you can see, since this bear market began, the S&P 500 has made a series of lower lows and lower highs. Each rally attempt failed to pierce a previous level of resistance (prior high) and turned lower. This pattern played out multiple times over the course of 2022 and is typical of bear markets in stocks (see red arrows). The current setup looks to change that and is a big positive in my view. During December's pullback, we held well above the October lows made a "higher low" and have now broken out above the previous high, which has marked resistance (see green arrows) – thus making a "higher high".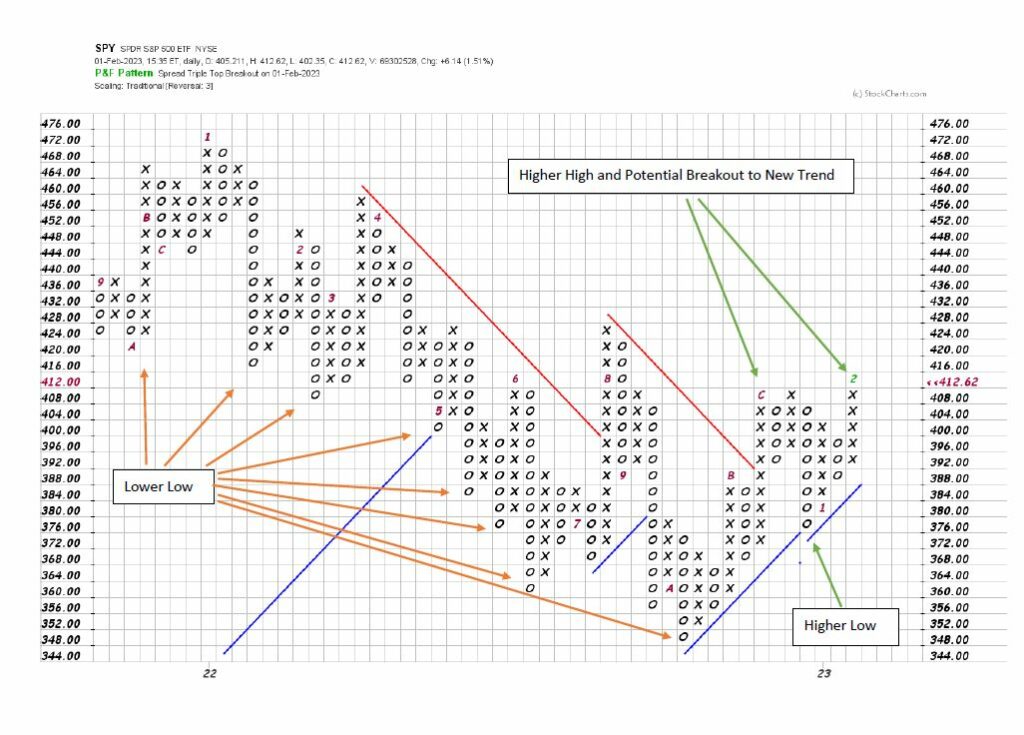 So, what does this all mean? To me, it means that we are potentially transitioning to a sustainable bull market. I am by no means saying it is a certain thing and all that was extraordinarily difficult in 2022 is over… but I believe it is possible.
At Cabana, we follow a rules-based process and incorporate new data into that as it happens. This has been incredibly important in the face of last year's historic selloff in "safe" assets like corporate bonds and treasuries. It is also important in providing an objective allocation strategy, which has lived and learned for many years. We will trust the process.
We are currently preparing to reallocate to reflect a change to bullish conditions.