By: G. Chadd Mason, CEO and co-founder
Since the very beginning, our firm has believed that if you invest your money wisely, with a strong team and thoughtful tools working to protect you, you can and will succeed. I have always said that to help people succeed means to help them find freedom to live the life they dream of. We have had the unique experience of seeing many people live out their dreams and there are a few simple principles we have learned along the way that are worth sharing
Everyone has a different dream.
Whether it's spending your days with your feet in the sand, sending your kids to college debt free, or having the courage to start a business from the ground up (just like I did many years ago), every dream is equal and worth fighting for.

Money is not everything.
The greatest investment that anyone can make is the investment in themselves. It is also the surest. The time, effort and thought that we give ourselves dictates who and what we become. It is the difference between realizing our dreams and failure to reach our true potential.
With that, I am excited to kick off the #CabanaInvestInYourself campaign. I hope that as we move forward and for years to come our clients and partners will share how they are investing in themselves every day and will pass the message on to those that need it most.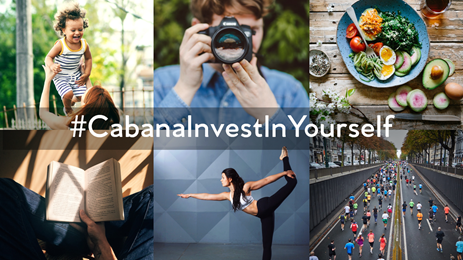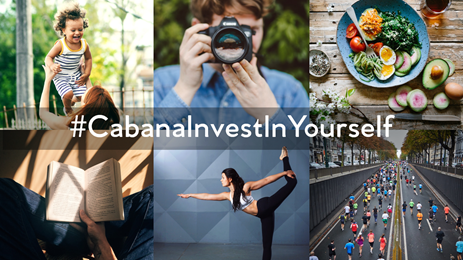 This very simple maxim applies to all aspects of life. Our health, self-esteem, relationships and careers all start with our willingness to invest in ourselves first. After all, who better than ourselves to place our trust in.
I have made many mistakes over the course of the past 50 years and am sure to make more. As I look back on the ones that mattered most, I realize it was often the result of me not taking care of the one thing I had the most control over – me.
I will forever be grateful that I have been able to dream big. I haven't always succeeded but the ability to dream it is the first step in making a great thing happen… and without a doubt a dream is hard evidence of an investment in yourself. If I have one wish for my children, it is that they dream big.
Together, let's dream of great things and know that we can make it happen because we invest in ourselves first.
How do you invest in yourself? Simply share on social, tag us and use #CabanaInvestInYourself. Check back each month for feature posts and stories to find out what others are doing.
Facebook: @TheCabanaGroup
Instagram: @CabanaGroup
Twitter: @TheCabanaGroup
LinkedIn: @TheCabanaGroup